Last month, we headed across the country for our East Coast vacay where we spent time in quite a few cities: Wilmington, Delaware; New York City; Washington DC; and even a few hours in Philadelphia!
In our journey to get there, we got to try out an airline that neither Handsome Husband or myself had ever flown on: Virgin America Airlines.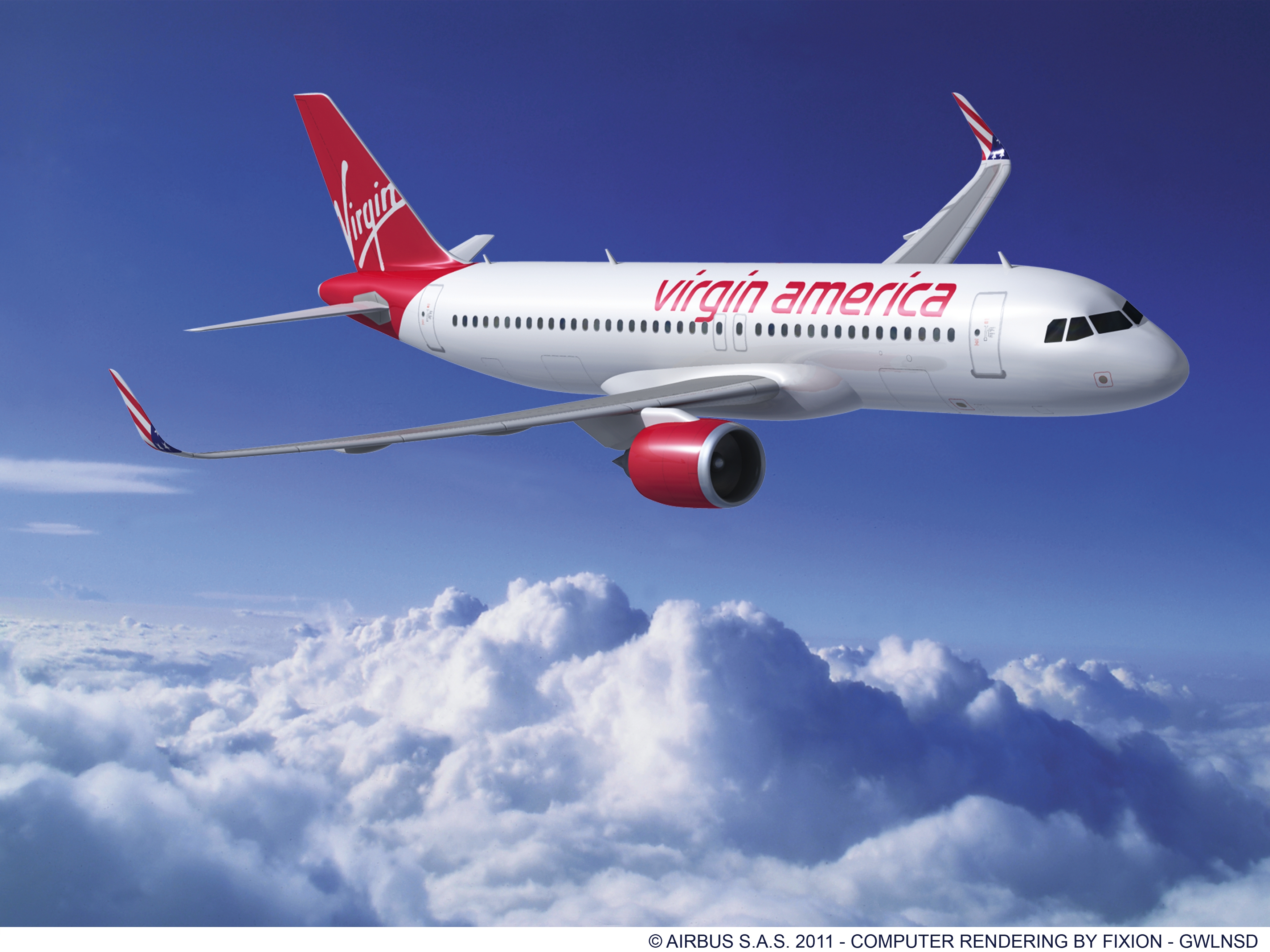 If I was the CEO of Virgin, my first order of business? Renaming the airline Hip Hop Airlines. The entire experience felt sort of surreal.
Take checking in at the airport, for example. HH and I accidentally had Mother-in-Law Red (thanks for the ride, MIL!) drop us off outside Virgin
Atlantic
, instead of Virgin
America
(because of course things wouldn't go perfectly smooth), so we had to hoof it through the terminal down to our intended check-in counter. We passed lots of white flourescent lit counters for American Airlines, United, and so on and so forth. As we passed into the Virgin America airlines area, it was like we were immediately transported into a downtown LA lounge. There were glowing red and purple lights, huge displays of beautiful white flowers, and I shit you not - slow R&B jams played in the background. It was all at the same time bizarre and intruguing.
Our check-in was pretty seamless (except for our 59 pound suitcase, which needed to be rearragned to get under the 50 pound limit), and we were off to wait for our boarding. I couldn't help but be excited to see what the plane would look like if this was just the check-in!
After a lackluster dinner with some necessary glasses of wine, we parked it at a charging station while we waited for our boarding time to approach.
With about 30 minutes of waiting time still to go to board our flight, we decided to leave the charging station behind and head to our gate so we could board as soon as it was our turn. Imagine our surprise when the seating surrounding our gate was empty because surprise! They boarded early! I've actually never seen this done, so I was excited at the prospect of leaving early, but alas we left right on time. Oh well, better than late, right?
The next surprise on Hip Hop Airlines was the
mood lighting
on board the aircraft.
This
was the view as we approached down the catwalk (is there an official name for this?) towards to door to board:
I squeeled with delight to HH, but once you actually got onto the plane, the lighting was not quite as intense as it seemed from a looksie in.
However,
still cool.
I mean, right??
The seats were a tight squeeze as always, and actually on our flight home my seat did not recline which was a bummer and a half. The flight itself was as good as a long flight can be (the flight time from LAX to Philadelphia is a little over five hours), but there was one stand out awesome thing and one stand out shitty thing:
Awesome: Live TV on the flight. Before I took a little snooze, I laughed up a storm in my tiny little seat as I watched a Katt Williams comedy special live on Comedy Central.
Shitty: There was not a single bit of food offered without purchasing. Not a packet and peanuts or pretzels, nada. And the real kicker? Even the items you could purchase were unappealing. I don't want a five cheese tray on a 5 hour flight...give me a break.
All in all it was an average flight experience, but with the R&B music and the lighting? I felt like a little Hip Hop princess flying my ass into Philadelphia.
Next up in recaps? Our first few family fun days in Delaware, and our train trip to NYC!