(Never gets old.)
Today, I'm linking up with 4 lovely ladies for this wonderful day known as October Followers Fest! Seriously, go check it out - it's pretty awesome!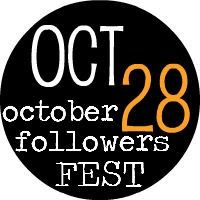 The link-up creators hoped everyone would talk about fall - recipes, traditions, decor, pretty much anything goes!
I've already done participated in a little fall chatter this year, check it out:
One thing I haven't gotten the chance to touch on here on the ole blog is fall decor! Being that I live in a 10x10 bedroom in my parents' home (with my husband - that's a story for another day), I don't get to decorate much at the moment, so I live vicariously through Pinterest. And lucky you, today I'm sharing my favorites!
Imagine how this would make your house smell if you used a vanilla-scnted candle in the middle...I die.
Anything glitter...gets me every time.
Book pages on a pumpkin - so cute!
Adore this Fall centerpiece!
Those are just a few of my top faves - check out my Pinterest for all my fall decor pins and more!