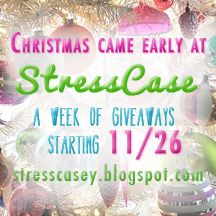 Can I just tell you how jealous I am about all the super cool stuff y'all are getting the chance to win?! So cute! And today is no exception - I've got every blogger's favorite...Scentsy up for grabs today!
Amber
is very generously giving away a Snowman plug-in Scentsy warmer and 1 Scensty bar to a lucky winner from Stress Case!
Shop for these and other items on Amber's Scentsy Website
HERE
!
I can't believe these giveaways are coming to an end - crossing my fingers for all of you, don't forget you've got all next week to keep tweeting and enter-ing any of the giveaways you've not gotten a chance to yet! See below for a list from the whole week!
Enter to win the Scenty package from
Amber
below via Rafflecopter!
Enter to win the Sponsorship Bundle
HERE
.
Enter to win the Vinyl Decals for Stand Mixer
HERE
.
Enter to win Amber's Elyse earrings
HERE
.
Enter to win the $10 Graphic Design Etsy Shop Credit
HERE
.
Enter to win Daisy Kate's Customized 16x20 State Print HERE.