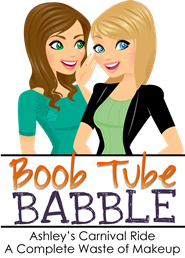 Talk about a big TV month - the amount of shows that have come back in the past few weeks is
cray
.
Let's take a look:
I am really ready to know who "A" is already.
(Also I'm about 2 episodes behind so if we've found out, shhh!)
The episode where MerDer get their baby back? Tears.
Pete is a total tool,
I feel bad for Amelia,
and thank goodness Sam and Addison are done with their ridiculous relationship.
That is all.
YES. They're back.
(PS. Does anyone else think JWoww has gotten to be like ultra boring? I watched the marathon for the days leading up to the new season [because of course I did] and she was way more fun in the early Jersey days.)
Okay, so this show maybe could should have ended years ago, but you know? I love it.
Love me some Brooke, love me some Naley.
But let's be real, the first episode was weird as eff.
The bombshells at the end of the episode?
Made me gasp out load!
So good.
Okay, look, I've had just about enough of this Chuck and Blair (or Chair as I like to call them) are together,
now they're not,
now they are,
baloney
(not my first word choice, but we'll go with it).
They belong together. Enough back and forth already!
What have you been watching?