A few weeks ago, the most awesome thing happened -
I won a giveaway!
Aimee from
Chronicles of a Dime
was giving away the most fun little package of goodies, and I was lucky enough to be the winner!
Pretty sweet, huh?
Go check out Aimee's blog and maybe you'll get lucky enough to see something wonderful up for grabs again sometime! Even if you don't, you can read her fun blog anyways!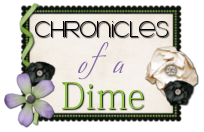 And did you notice that little nail polish goodie up there? Essie! This is my first ever Essie polish, and I was so excited to use it for the first time!
Here is the gorgeous color that I rocked on my nails this week:
The high-def camera I used is not doing me any favors in hiding my hideous nail painting technique!