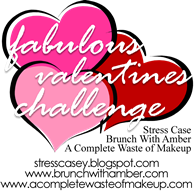 Now that you ladies have had the weekend to rest up, can't wait to see the rest of your awesome V-Day Challenge link-ups!


Today's Topic: Love to be Creative
Share some Valentine's Day crafts, recipes or gifts you've got up your sleeve!
(
See all topics and dates HERE.)
Pinterest is my best friend for things like this, because in the real world?
Stress Case don't have time for all this fun stuff!
Between work and school and trying to maintain a speck of a social life - the creativity unfortunately gets slid to the backburner.
But, if I did have the time,
this is what I'd be doing!
I'd be decorating my (non-existant at the moment) house like this:
Making these adorable crafts:

And, of course, I'd be baking up these yummy treats:

Want to see more of my Valentine's Day Pin Board?

What creativity are YOU putting to use this Valentine's Day?
Tomorrow's Topic: Love Blogging
Why did you start, what posts are your favorite, share anything with us!
(
See all topics and dates HERE.)