Love this new link-up that a whole gaggle of fabulous ladies are hosting, so I'm hoping on this awesome bandwagon!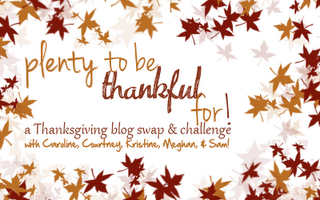 Today's topic is:
I'm THANKful for my Guilty Pleasures
(and oh, I am)
Starbucks
Especially in red cups.
Coke.
Making me chubby and rotting my teeth one bottle at a time.
Trashy Reality TV
Especially all things Jersey - Housewives, Jerseylicious, the Shore. LOVE.
Scentsy
A new obsessesion - feel free to buy me bars for Christmas.
Facebook stalking
It's an artform.
Head over and join the Plenty to be THANKful For Challenge!