I'm back linking up with Boob Tube Babble and oh how happy I am to be back!! I've missed my TV chatter!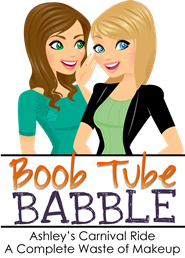 Let's talk about the most
shocking
announcement in realty television history that came about this week:
These two lovebirds are calling it quits.
(If this is the first time you're hearing about this, what rock have you been living under this week?)
I don't think I'm the only one to have completely expected this news - amiright? BUT, 72 days? Seriously?! Could it be any more obvious that this was a publicity stunt?
I have to admit I soaked that reality TV wedding up - totally drank the kool-aid. But during the entire special (and actually the episodes leading up to the wedding) something just seemed off. I get being stressed about your wedding (trust me I get it), but hating your future spouse during the rehearsal? Seems strange. Makes sense now, now that it seems the entire wedding/marriage was a bit off, or just non-existent really.
Y'all know
I don't really talk politics
, but I
have
to share what my very liberal (and love her that way!) Sister Singer posted in regards to this little marriage flop: