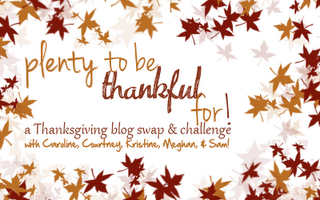 Today's Topic:
I'm THANKful for my Favorite Thanksgiving Recipe!
I have a totally easy, completely favorite Thanksgiving recipe that unfortunately (or fortunately for me, cause it's my fave) not everyone loves. I think it just takes a certain taste to appreciate this masterpiece.
Also known as Ambrosia
This is not a photo of MY fruit salad - mine is cuter.
Ingredients:
1 large can pineapple chunks, drained
2 cans mandarin oranges, drained
1 half-jar of maraschino cherries, drained and halved
4 banannas, sliced
3/4 large bag of miniature mashmallows
Sour cream, to preferred consistency
It's all very simple, you put all fruit in a bowl, add your mashmallows, and add sour cream until you like the consistency. I prefer mine pretty firm, as the leftovers get...mushier with time. The key to this fruit salad is draining the fruit as best as possible - it will pay off in the end!
Also, another thing I love love love to eat on Thanksgiving (and I am not a huge fan, as I mentioned on Thursday) - Handsome Husband's Aunt Fancy Chef's Green Been Casserole!
Again, not her actual casserole.

I've tried my fair share of green been casseroles and hers is by far my favorite ever! Last year we missed dinner and only came for dessert, and she even sent me off with my own container full of the good stuff!
What's your favorite Thanksgiving recipe?