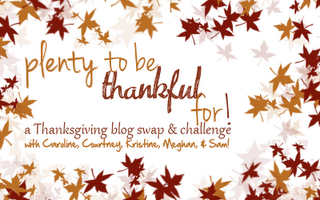 Today's Topic:
I'm THANKful for the Blogoverse!
I am so very thankful for the Blogoverse! (Although I really never call it that - it will always be the Blogosphere to me!)
When I first started blogging, I really didn't know why I wanted to, what exactly I would talk about, or who would even care to read what I had to say.
And let's get real:
I still don't know why I want to, what exactly I'm talking about, or who really cares what I have to say!
But I love it!
I love sharing my thoughts, having a creative outlet to go to when I have something to say or share, and I love that my friends and family who I don't get to see or talk to daily can know what's going on in my life (and my Handsome Husbands!).
I think my favorite part about blogging is reading your blogs though - I love it! I love to read your funny stories, your deep insights, and see cute pictures of your families!
I thought I could share some of my favorite bloggers with you, for those of y'all looking for some new reading material!
There's my real-life blogging friends:
PS. All of those above 3 hotties are on a blog-hiatus right now. Maybe if you go and encourage them to come back, they will be back to the blogoverse! :)
And a hand-full of my all-time favorite reads:
Seriously, go read their blogs.
They are awesome.
Who are your favorite bloggers?