Hi, everyone! I'm Christin, and I blog over at
Classy, Southern Wife
. I write about everything from running to fashion, cooking and married life. I hope you'll stop by sometime.
The "Why I Blog?" question is always a hard one to answer. Honestly, I started my blog as a Pinterest board of sorts (long before the days of Pinterest) to share wedding inspiration ideas with my mom. I only gave her the URL and didn't think that anyone else would follow along. A few days later, I got my first comment, and from there it spiraled into what it is today.
I've always loved writing, which is a huge reason why I blog, but I also love "meeting" other bloggers, whether we actually get to meet in-person or just become friends through comments and e-mails. The blogging community is such a supportive place, women offering each other encouragement and advice.
As a late 20-something, it's not always easy to meet other women who share similar interests, but blogging helps bring us together.
I've met wonderful women who have become dear friends. In fact, a blogger friend is flying to meet me at a race next month so we can run together. I'm so excited to meet her and share a couple hours of pounding the pavement together.
Blogging is much more than putting words on a webpage. It really is a community, whether it's your community of mommy bloggers or fashion bloggers…we all have our passions, and blogging helps put us in touch with one another.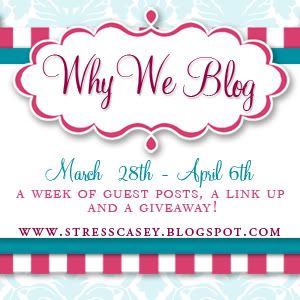 Don't forget to come back Thursday, April 5th to link up and share Why YOU Blog!