Being that tomorrow is the last day to sign up for our Springs Sweets Swap (have you signed up yet?), I thought I would give you 10 great reasons to sign up if you haven't quite gotten around to it yet!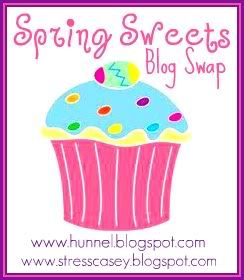 1. Who doesn't love getting things in the mail?
2. An excuse to use the girly stationary your husband doesn't want you using on anything that's from the both of you.
3. It's a great way to make new bloggy friends!
4. There is a link-up at the end - easy and fun blog post to write!
5. Sweets...enough said.
6. Shopping in the dollar section in Target, Walmart, and Michaels for someone other than yourself...makes a girl feel good about herself.
7. Getting your blog out there not just to anyone, but to fellow friendly bloggers who like to meet and make nice with other ladies who blog!
8. Did I mention sweets?!
9. Getting to decorate the outside of a little package with all those cute little stickers and stamps who
just had to have
but haven't used since you bought them.
10. I will be a big fan of yours if you sign up for
our
swap!
So, what are you waiting for?